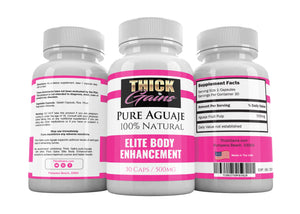 Aguaje Pills by Thick Gains "Miracle Fruit"
Regular price $0.00 $15.99 Sale
Aguaje pills PURE 100% All Natural by Thick Gains. NO FILLER. 
Aguaje is RICH in natural fatty acids as well as phyto-estrogen which helps increase curves in your butt, breasts, thighs and hips. (phyto meaning plant)
Aguaje is also known as "Miracle Fruit"
due to all of its benefits.
Helps balance hormones
Boosts estrogen levels
Provide hormonal support for menopausal women (such as controlling hot flashes)
Boost fertility
Increase the size of butt, breasts, and hips in women
Renews the body
For FASTER Results :
When taking supplements to increase your curves be sure to REDUCE your sugar intake. Sugar blocks the production of estrogen and can cause hormonal imbalances with women.
Questions regarding orders text to number below 
( 9 5 4 ) 7 1 9 - 0 0 5 5