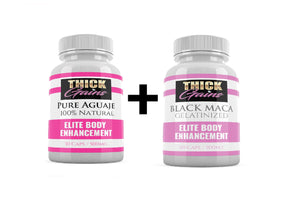 Aguaje and Maca Pills combo for Curvy Body / Weight Gain
Regular price $0.00 $35.00 Sale
Get this Aguaje and Maca pill combo by Thick Gains to customize your curvy and or weight gain transformation. For weight gain we recommend a more sedentary lifestyle and less cardio combined with a high caloric diet. 
Do these pills make you gain stomach weight ?
NO. Aguaje and Maca pills give you curves in your hips, chest and thighs. We recommend going on an occasional brisk walk to keep your tummy tight, snatched and trim. 
Questions regarding orders text to number below 
( 9 5 4 ) 7 1 9 - 0 0 5 5